Black Friday - Cyber Monday Special Deals
Gift certificates only: BOGO on Holiday Special Packages
BOGO1/2 on regular massages/services. Only time of the year. Miss it, you must wait until next year.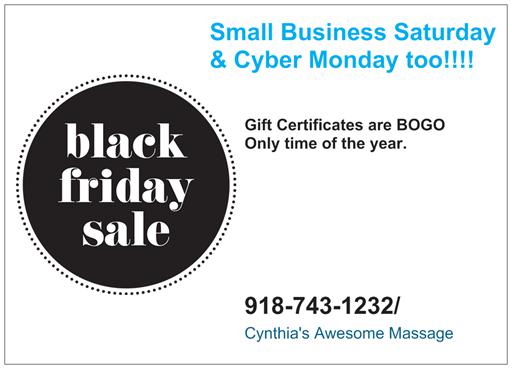 New Limited Edition Holiday Specials
Good only through January 2020 book it or give it as a gift. The receiver will have to use it by January for the Limited Edition massage, but can use anytime for a regular service.
Ginger Snap Massage
Balance your mind and body with the Bon Vital' Ginger Snap Massage. The charming
combination of Sweet Orange, Cinnamon Leaf, and Ginger Essential Oils will leave you
feeling relaxed, revitalized, and ready to take on fall. Classic Swedish strokes with hot towel to face, to back and hot towel foot rub to feet. End with Ginger Snap Cookie and hot tea.
Soft & Soothe Massage
Starts with dry brushing, which stimulates the lymph flow and immune system, and exfoliates the skin. Then a light Swedish massage using your choice of holiday scents creams or oils. Ended with nerve stokes, feather-light, that sometimes tingle. It can be both sedating and stimulating.
Quickie Tension Tamer
30 minute Classic Deep Tissue technique to the Head Neck, Shoulders, Shoulders and Declotte only Hot stone to neck and shoulders. With Arnica oil or CBD oil or CBD oil blend. your choice. Great purchase since it is packed with extras.
Coco N Peppermint Holiday De-stressor.
Classic Swedish/Deep Tissue (your choice) massage starting with Peppermint inhaler and facial hot towel. Help to clear sinuses and keep airway open. Pressure points to relieve congestion with facial massage.Includes dry scalp massage. Use of Muscle Therapy oil which has peppermint in it or just peppermint added to carrier oil or cream for the body massage. Coco Massage Balm to extremities is very hydrating and soothing sealing in moisture. End with Hot chocolate with peppermint stick.
Chocolate Hot Stone Massage
Smooth stones are heated and then lubricated with Coco Comfort Balm or Chocolate Massage oil, or Chocolate Massage Cream. The therapeutic effects of heat are used to relax muscles more deeply. Used as an extension of the therapist's hands, the use of massage stones induces deep relaxation and provides a unique experience many find to be tremendously calming and centering. Allergic to chocolate? We can substitute Cranberry Massage Oil or Cream or just use regular massage oil.
Holiday Tropical Isle Get-Away Staycation
Come stick your feet into the warm sand. Lay on the massage table and hear the ocean, the Whales singing or even the Hawaiian music in the distance. You'll smell the tropical scents. and experience your choice of massage. special holiday scented oils will be used. Departures daily and you can be home in time for your next meal.
Holiday Essential Oil Steam Sauna
Personal Steam Sauna, with or without essential Oils added. Benefits of steam sauna include
Improves circulation. ... Skin health. ... Workout recovery. ...
Loosens stiff joints. ... Reduces stress. ... Opens up sinuses. ... Burns calories.
Hot moist towels provided to clean off and Dry towels to end session. May be used as a single service or as an add on.
Not available until the 12/10 or after.
Focusing on self care and health maintenance: I have massage series you can purchase which, provide a discount and help incentivize you to attain your health care goals for 2019.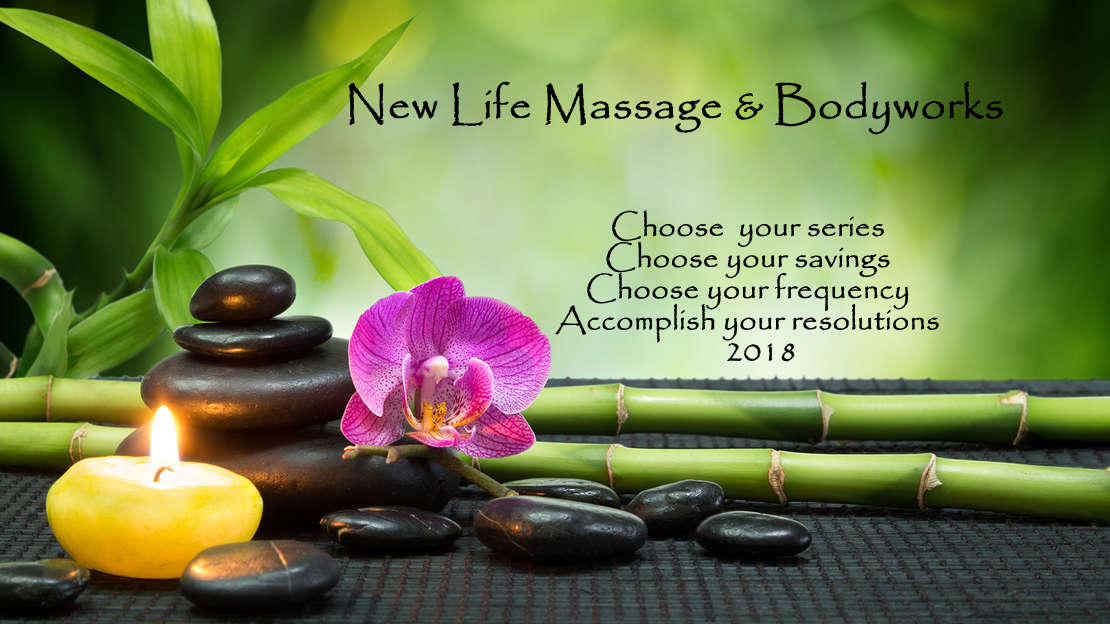 Yes I know this says 2018 I will correct this soon.
Purchase 4 massages get 5th for 1/2 price. or 6 massages and get one free. Purchase 10 and get 2 free, or you can employ my Healthy Rewards Program, which requires no upfront purchase, and after you have had 6 massages you get the 7th for half price.
Cynthia's Awesome Massage @
New Life Massage & Bodyworks
Old Village Professional Bldg..
1427 East 41st St.
Tulsa, Ok. 74105
Ph. # 918-743-1232