Cynthia Hill-Meriwether BSN, LMT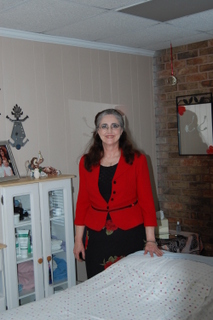 Graduate of University of Washington in Seattle, BSN 1976 I've been in the health care industry for over 30 years. Currently Licensed in the City of Tulsa, Oklahoma. (Oklahoma doesn't have state licensure.) Having this extensive training and experience in health care gives me an advantage many therapists don't have when working with clients with special health care needs. Completed training in the Niel Asher Technique 2015 for difficult problems including frozen shoulder syndrome. Completed training for massage cupping March of 2018.

Hello. I believe every person has been created in the image of God and I consider it an honor and a spiritual service to be able to work on your body. I totally believe in the threefold chord idea that we have a physical body and a mind/personality and a spirit. What effects one will affect the other. Similarly the therapist and the client and the setting make another threefold chord. When each strand is healthy or optimal then the whole will "not be easily broken."
Graduating from the University of Washington in Seattle I was actually taught some Swedish massage in my basic nursing program. From that time I loved giving massages and would give them to my friends and family, who always said I should do that for a living, because I was as good as or better than ones they paid money for. After 30 years in health care industry and looking for career change I decided to try massage. In 2008 I enrolled in Jenks Community Education Massage Program to learn extra massage techniques. Initially, I gave massages out of my home, but believed a professional clinic would be better for everyone involved so I worked over a year at The Path to Wellness and recently have moved to my current location at New Life Massage. I have my own business here. The standards are high. You don't have to worry about what else is offered here.
I also have been on the official massage team for the Oklahoma Freewheel Bicycle event in 2009 - 2011.
Copyright © Cynthia's Awesome Massage Member ABMP